Artist: Babylon Daiou (バビロン大王)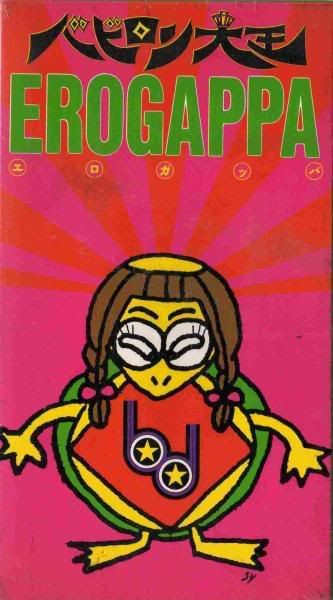 Single Title:エロガッパ (Erogappa)
Date Released: December 21st, 1990
Catalog Code: FHDF-1069
Label: Fun House
Genre: Japanese Rock
Tracklist:
1. エロガッパ (Erogappa)
2. ズンドコ1990 (Zundoko 1990)
Single Info
About/Review
Babylon Daiou was a popish rock group that was in early 1990s with Megumi Hakata (it's a guy, not a girl) as the lead singer and guitarist. If anyone is a major Kome Kome Club fan, one would recognize that Megumi was the guitarist for the band when it first started (in 1987) and only lasted for a year.
The single is another excellent single but kinda funky/weird due to the lyrics and the music. The a-side, Erogappa, reflects that with the weird lyrics (with each line in each verse starting with a random letter of A, O, B, or D). While, my favorite track of is the b-side, Zundoko 1990, is a bit strange but features a lot of awesome vocals, guitar riffs, and keyboard solos. I swear I could hear the famous singer and voice actress Minami Takayama in the dialogue bits during the chorus of Zun Zuns.  In conclusion, this single is a bit weird and funky but nevertheless a great single.