Happy #SongLyricsSunday! Today's prompt is all about "Bugs, Insects". I originally came up with this theme for the prompt because, in Japan, kids are wild about bugs. Just last week, one of my four-year-old students came to me with a cocoon of a cicada (These insects come out and sing their annoying songs around this time every year). Also, the preschool I work at has four beetles as pets: two Japanese rhinoceros beetles (kabuto) and two stag beetles. The kids are wild about them, but I am about a foot or two away when they open the insect box as those things can fly.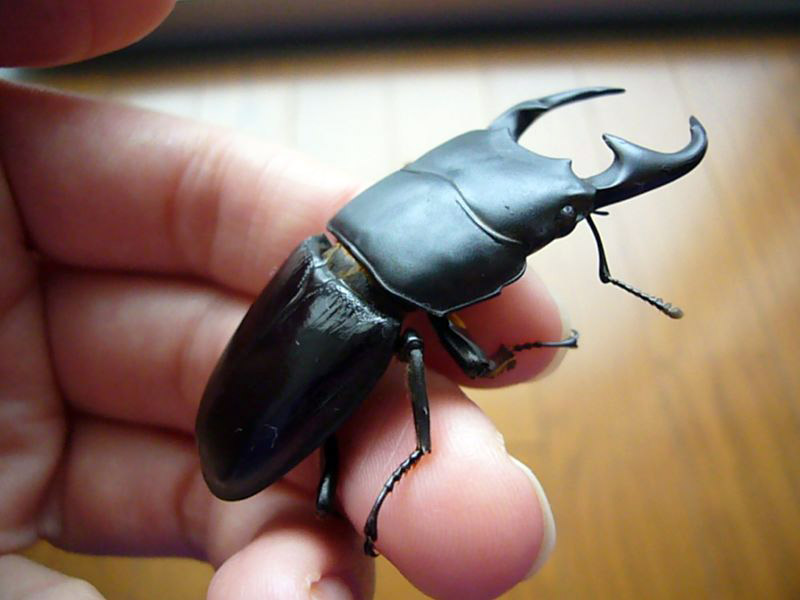 And so, to dedicate this #SongLyricsSunday to my student's best friends, I decided to pick "All My Friends Are Insects" by Weezer. The song is actually for an educational music show that was popular in the early 2000s. What show was it? Continue to read to find out!
I Have a Friend
"All My Friends Are Insects" by Weezer is from the Nickelodeon kids educational show Yo Gabba Gabba! that aired from 2007 to 2015. The show features DJ Lance Rock, five toys (Muno, Foofa, Brobee, Toodee, and Plex), and artists/bands performing songs and skits. It was created by Christian Jacobs (from The Aquabats) and Scott Schultz with the idea that it can be a show that the whole family can watch. And, did it do a good job at that because I love to bingewatch these shows for the artists that were popular when I was younger.
The show was very popular among kids and even adults. The cast of Yo Gabba Gabba! performed at Coachella in 2010. The show had a live tour in Australia in a few years. It continues to be mentioned in other shows to this day.
You would think that Weezer wrote "All My Friends Are Insects", but nuh-uh. The song was actually written by Adam Deibert (also from The Aquabats).[1] But, I wonder if Weezer had any input or Deibert knew what Weezer was like because it does feature Weezer's prominent 90s alt-rock sound. You can hear an example of that in the break with that rad guitar solo. That is purely Weezer, right?
"All My Friends Are Insects" is a delightful tune that really rocks. I grew up listening to Weezer (thanks to Windows 95), so this song is very nostalgic to me as I love Weezer since I was little. But also, I also love the songs from Yo Gabba Gabba! as they are very educational and my students love them! I am sure you will this song as well!
Make sure to check out "All My Friends Are Insects" by Weezer down below and let me know what you think in the comments!
While I don't like bugs because of a bee sting when I was five years old, I did love a 90s superhero show when I was a kid that featured the kids wearing beetle suits. The show? Big Bad Beetleborgs! I loved this show.
---
The Lyrics for Weezer's "All My Friends Are Insects"
I have a friend and it's an earthworm
It burrows underground deep within the soil
Sometimes when it rains it comes out
and we talk about our day
I have a friend and she's a butterfly
she flies from flower to flower drinking sweet nectar
With hundreds of friends
they sleep up in the trees at night
I have a friend and he's a dragonfly
he sweeps around all day and hovers in the air
he's colorful and wonderful
his wings are strong and powerful
he's the dragonflyphotoThese are my friends
even though they are bugs
They have a big role in our world
even though they're bugs
I have a friend and it's an earthworm
I have a friend and she's a butterfly
I have a friend and he's a dragonfly
They are my friends and yeah they're all insects
---
The Rules for #SongLyricsSunday
(This challenge is currently hosted by the generous Jim Adams.)
Anyone can participate in #SongLyricsSunday, even if you aren't a music blogger! If you want to participate, here are the rules:
Post the lyrics to the song of your choice, whether it fits the theme or not.
Please try to include the songwriter(s) – it's a good idea to give credit where credit is due.
Make sure you also credit the singer/band and if you desire you can provide a link to where you found the lyrics.
Link to the YouTube video, or pull it into your post so others can listen to the song.
Pingback to this post will eventually work, as long as you are being patient, but you can also place your link in the comments if you don't like to wait.
Read at least one other person's blog, so we can all share new and fantastic music and create amazing new blogging friends in the process.
Feel free to suggest future prompts.
Have fun and enjoy the music.
---
Pin This!
---
References
[1] https://genius.com/Weezer-all-my-friends-are-insects-lyrics